So – the climate is changing. We know it's not good for our future – but let's break it down. What is going on and what effect does it have on our planet? What is really happening and why is our planet in danger? If you're still skeptical about climate change, let's debunk some common misconceptions on what is happening to our planet using real information and science (all factual statements have been cited from either credited websites or scientific papers, click the reference links after each statement to read more)!
Misconception 1. The climate has always been changing, even without humans on earth. These hot temperatures have happened in the past!
Yes, that is actually a true statement! But just because the climate has changed in the past, doesn't mean that we as humans are not currently causing the climate to change now. These warming periods are evidently caused by carbon emissions from fossil fuel extraction, transportation means, cattle, and much more (The CCC). 
Climate has changed in the past, BUT rapid climate change is the prime suspect in most mass extinction events, including the Great Dying some 250 million years ago, in which 90% of all life went extinct (Grist). The rate at which we are experiencing Climate Change currently is what makes our situation very dangerous (see Misconception 2). Click here for another informative article about the evidence of rapid climate change, and the links on the left are also worth a read! The blue line in the graph above represents actual recorded temperatures.
Misconception 2. CO2 is naturally produced by the earth, the rise isn't caused by human activities.
CO2 IS naturally produced by various living things, however, the earth has evolved to regulate these levels in what is known as the carbon cycle. We, as humans, literally emit billions of tons of CO2 into the atmosphere. CO2 has gone up on its own most notably during glacial-interglacial cycles, rising and falling by 100ppm.
But those increases occurred over 5,000 – 20,000 year periods (0.005 ppm increase per year). Our CO2 emissions have increased by 100ppm in just 150 years (0.666667 ppm per year) (Real Climate, Grist). This is a 13,233.3% increase in time.
Misconception 3. Global warming is a good thing – less snow and warmer summers is what I prefer!!
We hope you like floods, droughts, and more pandemics along with those hot summers! A 4dC increase in global temperature is projected for the next 100 years.
Due to global warming, by 2100, sea level is expected to rise up to 8 feet from melting icebergs and the expansion of sea water. Due to the warming, many places will actually become inhabitable and millions of people will become homeless or have to seek refuge. Not to mention that if the arctic continues to melt we will lose polar bears, penguins, seals, and many more arctic animals further adding to loss of biodiversity. Heat waves are projected to increase and will consequently lead to droughts (NASA). Violent storms and more natural disasters are projected to occur with an increase in temperature. A higher temperature also means more thriving diseases and viruses. Many viruses ideal survival temperature is between 25-35dC. As temperatures are rising, they are able to survive for longer on surfaces and in the air (David Suzuki Foundation). Hotter temperature areas where some viruses are currently thriving, will become too hot to inhabit them, but average to colder temperature areas will begin to increase virus numbers (that's us!) (NCBI). 
Misconception 4. The scientists aren't even sure! 
No scientist is ever 100% sure! They can't predict the future. That is why they use words like "likely" and "there is evidence of". Theories can be assumed to be trusted until something else has been discovered or proven. This has been the case for many scientific laws, but there are still many laws of science that have yet to be disproven – like the Law of Gravity.
The Greenhouse Effect is over 100 years old and has yet to be disproven. With evidence, time has strengthened the theory of the Greenhouse Effect and we can see patterns of what is happening to our planet not by coincidence – extinctions, viruses, and natural disasters. Back in 1998 when scientists predicted the future global warming, they ended up being wrong – their prediction has occurred more than twice as fast. The future of the climate will never be certain "but no rational human being rushes headlong into an unknown when there is even a 10 percent chance of death or serious injury. Why should we demand 100 percent certainty [from climate scientists] before avoiding this danger?" (Grist).
Misconception 5. I'll be dead before anything bad enough happens, so it's not my problem.
That may be true, but it also may not be. The speed at which climate change is occurring is record breaking. If a death prior to climate change effects is the case, what about the kids, grandkids, great grandkids and so on? They will be the ones experiencing hardships and disasters great enough to kill them and potentially the rest of the world. If the positions were reversed, I am sure the elders of today would hope their elders cared enough about them to make some changes for their future. As long as we are on this earth, it is our one and only home and we should all treat it with respect, making climate change everybody's problem. Many ways to fight climate change are small and easily done as well.  
Here are some more ways to refute a climate change skeptic, or to read about if you're still a little skeptic yourself. We recommend that before you form your opinion, or to strengthen your opinion, you do some research!
David Attenborough: A Life On Our Planet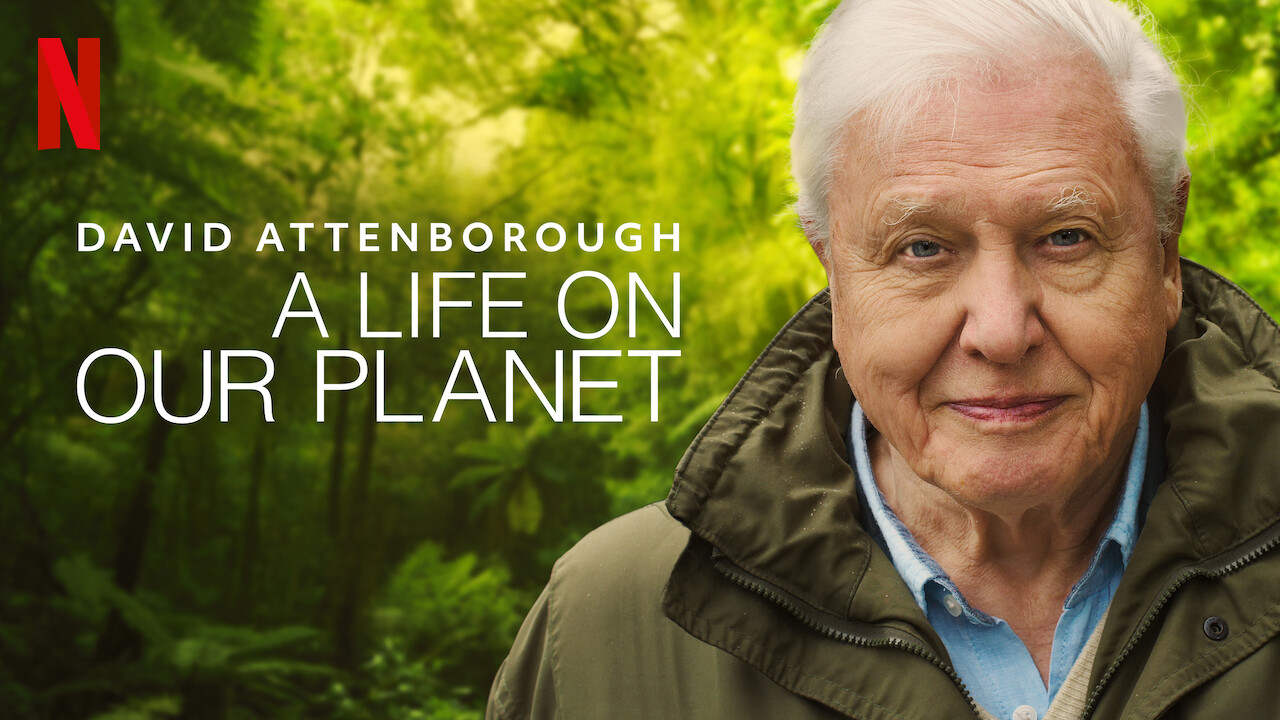 A Life On Our Planet is a Netflix documentary starring David Attenborough, an English broadcaster and natural historian (you may know him from his narration of countless shows and movies about the planet and its biodiversity). This documentary is very informative and it is a great watch to learn about what is happening and what has already happened to our planet. Below is a short summary of the major points he mentions in the movie.
By 2030 the Amazon Rainforests will be reduced so much, it will alter the global water cycle and deplete biodiversity, endangering and causing some animals to go extinct. Why is biodiversity important? Biodiversity provides functioning ecosystems that produce oxygen (slightly important!), clean air, water and natural carbon cycles. 

As temperatures continue to increase, ice caps melt and reflect less of the sun's energy back into the atmosphere. This will accelerate global warming even further as it will keep the heat locked inside our little bubble. 

As the global temperature continues to increase, we are starting to melt and unlock a permafrost layer composed of carbon-based remains of plants and animals that were frozen before they could decompose. This will be a

huge

(more than

twice

as much as what is currently in our atmosphere) methane and carbon emission only further increasing greenhouse gasses and global warming. This layer can be from 3 ft to 4900 ft thick, meaning there is a lot stored within that would have a detrimental outcome if released.

The ocean is a large carbon sink, but because of the rising Carbon levels, we are seeing more and more ocean acidification.So you may have heard of ocean acidification, and as bad as it sounds, maybe you're not too sure what it means. Acidification comes from excess CO2 dissolving into the ocean. When something is acidic, it is based on Hydrogen ion concentration, so why would CO2 (1 Carbon, 2 Oxygen) affect the oceans acidity? It is because when CO2 dissolves into the ocean (mainly composed of water – H2O) it forms H2CO3 that dissociates into Hydrogen (H+) and Bicarbonate (HCO3-) ions. This is where the acidity comes from. Ocean acidification causes coral reef bleaching, which can be detrimental to fish populations. It will also have detrimental effects on the food we eat, such as shellfish (acidification can break down their shells) and larger fish that depend on shellfish as their food source.

The global temperature will steadily increase (4dC in the next 80 years) leaving some locations simply inhabitable, and leaving millions of people homeless.              

The ludacris amounts of fossil fuels being extracted from the Earth that are being burned for energy and power release an immense amount of carbon dioxide and contributes to global warming!! Materials like coal, oil, and natural gas are dug up from deep in the Earth are non-renewable resources which means we WILL eventually run out… then what? 
     So what can we do?
Start a conversation or speak up when someone doesn't seem to care or is a skeptic

Slow down the population growth

Commit to renewable energy sources 

Reduce our meat consumption, less demand = less supply = less CO2 emissions

Carpool and plan trips so we only have to go out once

Bike or walk places when the weather is permitting

Invest in electric vehicles

Reduce our water consumption, take shorter showers, don't run the water when you're brushing teeth or washing face

Reduce energy consumption, turn off thermostat when not home, turn off lights when not in use

Buy less plastic, check if there's a low/zero waste alternative to a product

Buy local, use reusable shopping bags

Upcycle, use what you already have instead of buying new. Try to sell or donate before throwing away. 

When running the tap for hot water, collect the colder water for watering plants, making tea or coffee, boiling vegetables or eggs, etc
The earth has thrived without us in the past, and has the potential to do so again after many years of regrowth. The planet does not need us – but we need the planet. We need to start treating it like our home and not like a wasteland. We need to protect the biodiversity on Earth, we need to stop emitting as much greenhouse gases, and start living like less is more to reduce waste. Companies need to change their ways – stop using so much plastic and start using renewable energy to power production. Even the smallest actions add up and matter to the whole. Together we can change the climate – for the better.